Gayle Bradbeer
Researcher Support Librarian Researcher Support Services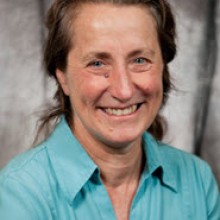 Role in the Library
Gayle shares ideas and supplies research and access support for researchers ranging from first year students to veteran campus faculty members. 
Gayle's work focuses on providing access to resources through the growth and maintenance of the Library's digital and physical collections.  Nothing is off limits for consideration, but the collection primarily includes books, journals, models (mostly anatomical), video, and audio materials in her areas.  Her areas of responsibility happily include the following and some of the areas in between:  Computing, Engineering, Human Performance & Sport/Dance, Mathematics, Medicine (Complementary & Lifestyle), Nursing, the Sciences (Biology, Chemistry, Earth & Space Sciences, and Physics), Technology, and Visual Arts. Faculty in these areas are encouraged to contact Gayle with collection, research resources, or related needs.
As a member of Researcher Support Services Gayle is also involved in scholarly communication, open access publishing, and data and citation management.  She teaches workshops on several topics and encourages researchers to preserve their work (including data and publications) in secure long term archives such as the Auraria Digital Repository.
Professional Affiliations and Service
Education
Advanced Certificate in Web Technologies, University of Colorado at Denver
Masters of Library Science, Emporia State University
Masters of Science, Hydrology, University of Arizona
Bachelor of Arts, Geology, Rice University