Nikki McCaslin
Teaching and Learning Librarian Education and Outreach Services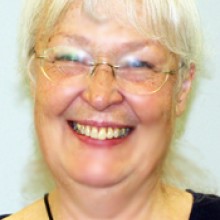 Role in the Library
As Literature, Languages and Film Studies Librarian, Nikki selects materials in these areas, teaches library instructions and conducts research consultations. Her other duties include outreach, special projects, such as Poetry Month and Shakespeare's Birthday events, and she oversees the library's popular Fun Reads collection.
More About
Nikki has been an academic librarian at Auraria for over 30 years. Her research interests include literature, history and adoption.
Professional Affiliations and Service
UCD Learning, Educational Technology, Teaching & Scholarship (LETTS) Committee,
Secretary 2016-2018
UCD Status of Women Committee, member 2016-2019.
American Library Association
Reforma (library services for the Spanish speaking)
National History Day, state judge
Education
M.A. Librarianship and Information Management, University of Denver (1984)
M.A. English Literature, University of Colorado Denver (1998)
Select Publications
McCaslin, Nikki with Richard  Uhrlaub and Marilyn Grotzky.  Finding Our Place:  100 Memorable Adoptees, Fostered Persons, and Orphanage Alumni.  Santa Barbara, CA:  Greenwood Press (ABC-Clio), January 2010.
Uhrlaub, Richard and Nikki McCaslin.  "Law and Language:  Adversarial Culture in Adoption and Mothering." in Adoption and Mothering.  Dr. Francis Latchford, York University, Ed.  Toronto, Ontario:  Demeter Press, Fall 2012.
Staff Picks Curated by Me