In an effort to meet our growing population, Auraria Library seeks to raise private funds. There are many ways to give a tax-deductible gift to the Auraria Library including cash, credit card, stock, pledge, matching gift, gift-in-kind, or planned gifts. For more information, please contact Cynthia Hashert, Interim Library Director. 
Director's Opportunity Fund
The Director's Opportunity Fund provides unrestricted funds for innovative projects and other Library needs. Contributions support organizational responsiveness to emerging 'greatest needs' on the unique tri-institutional Auraria campus. Recent initiatives replaced outdated computers, initiated a laptop program, and increased collaborative furniture.
These investments directly advance students' success in completing assignments, exploring ideas, and achieving dreams.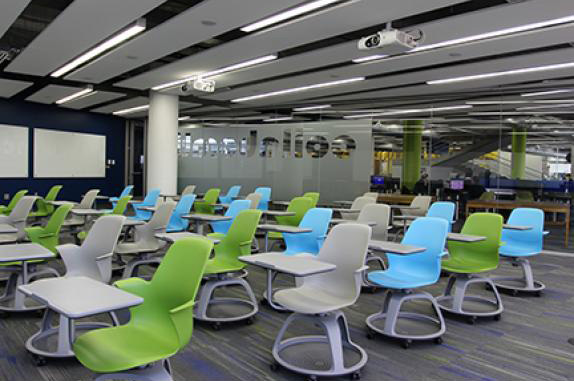 Construction and Renovation Fund
Auraria Library's Renovation Campaign makes possible a physical and intellectual space designed to spark imagination and exploration on campus and beyond. The past decade has seen two developments that challenge planners to think of the Library as serving a much broader educational role now and in the future. First, rapid changes in technology, especially the growth of the Web, have made it possible to discover information in virtual, as well as physical, space. As a consequence, time formerly spent searching for authoritative sources can now be invested in evaluating and interpreting resources.
Secondly, in response to the exponential increase in both the rate and volume of knowledge creation, changes in higher education now emphasize critical thinking and collaborative learning. Therefore, social spaces for informal learning and groupwork is now recognized as essential to contemporary teaching and learning processes. In response to both these factors, the Auraria Library is currently undergoing a multi-phase renovation. Phase One addressed the priorities identified in a 2009 student need assessment, including collaborative study spaces and upgraded electrical and wifi capacity. In addition, healthy food and beverage café options, informal social meeting places, and new restroom facilities were constructed. Fund raising continues, with the aim of further remodeling this downtown landmark to better advance contemporary teaching, learning, and research activities.