Researcher Support Services 08.17.2021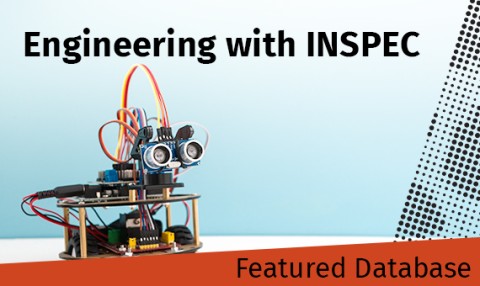 Featured Database: INSPEC
You can use databases to easily find organized collections of articles, journals, news, streaming videos, primary sources, data, and more!
Here's one of our favorites:
What's in it?
Created by the Institution of Engineering and Technology (IET), the long established INSPEC database provides engineering research information on physics, electrical engineering and electronics, computers & control, mechanical, production engineering, information technology is searched through Engineering Village. Because it is on the Engineering Village platform it can be searched simultaneously with Ei COMPENDEX another premier database in engineering.
Why should you use it?
There are millions of resources indexed in INSPEC that are not indexed in other databases the Library provides. INSPEC though the "serial solutions" link on the screen provides access to those specialized engineering resources and if they are not directly available (the blue "Full text" link to a method to request the item easily. INSPEC also provides access to citation counts, citation details and author profiles from Scopus for INSPEC content. Scopus is not otherwise available through Auraria Library.
Who should use it?
Mathematicians, physicists, engineers, and computer designers focused on optics, robotics, computer-aided design, astrophysics, audio systems, prosthetics, and chemical and laboratory instrumentation to name a few.
Why use a database?
When you use a specific database, rather than a search engine or discovery tool, you often can find more relevant sources. For example, subject databases include sources about that subject only, rather than a general search engine or discovery tool that includes information about everything. This way you don't have to wade through thousands of irrelevant results!
Want more databases?
Browse or search our Databases List!
If you have questions about this database or others, please see our Ask Us page.