The Creative Technology Commons (CTC) at Auraria Library acts as a convergent space for digital teaching, learning, and research. Serving faculty, students, and staff, it provides technology- and multimedia-related training, consultation, and tools for scholarly use. The Commons facilitates access to hardware, software, and hands-on guidance in the use of media and digital technologies and aims to support and expand digital competencies on the Auraria Campus.
Services
Digitization services for image, video, and audio content to support teaching, learning, and research
Support and training for digital imaging and presentation software, including Powerpoint, Adobe Photoshop, and Adobe inDesign
Support and training for digital storytelling and multimedia production software, including Windows MovieMaker, Audacity, and iMovie
Fully-equipped, point-and-shoot portfolio photography studio and related training
Resources, training, and support for the Auraria Visual Resources Collection, a robust web-accessible multimedia collection in ArtStor SharedShelf
Large-format printing services
Location
Room 129 (near first floor group study rooms)
Spring Hours
Monday - Thursday, 8:30 AM - 6 PM
Friday, 8:30 AM - 2 PM
Spring hours are in effect from January 16th through May 12th, 2017. The CTC will be closed during Spring Break (March 20-26, 2017) except by appointment.
Contact
Fill out our contact request form, or get in touch by phone (303) 556-2410 or e-mail ctc@auraria.edu.
To book the photo studio, make an appointment online here.
Lab Software / Equipment
Faculty, students, and staff are encouraged to use the digital imaging and multimedia equipment in the Creative Technology Commons. Training and support are available in-person subject to staffing and by appointment.
Please note, the CTC lab is a support space, not a public lab. Patrons who are using the computers for non-support related work will be asked to use the library's other computer labs.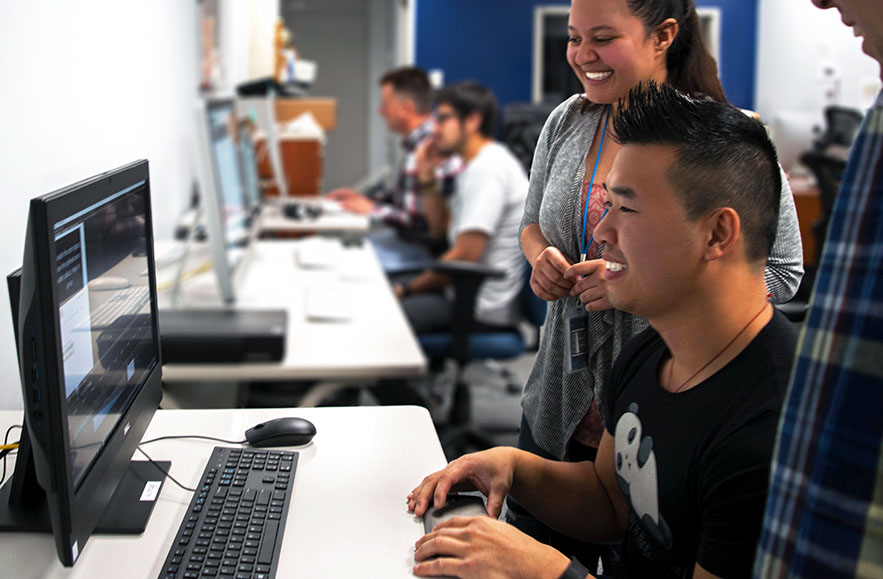 Software
Adobe Creative Suite*
Windows Movie Maker
iMovie
Audacity audio editor
Microsoft Office
Camtasia instructional tutorial design*
Equipment
(7) iMac workstations
(4) Dell Optiplex 7440 PC workstations
(2) High resolution flatbed scanners

Epson 10000XL (12" x 17")
Epson Perfection flatbed photo scanner V-370M Pro (8.5" x 11.7")

Slide scanner: Nikon Coolscan V ED
(2) Headset microphones
* This software is not available on every computer. If you'd like to make an appointment for assistance with this software, contact us.
Photo Studio
Students, faculty, and staff from UCD, Metro, and CCD can reserve the CTC portfolio photography studio for 30 minutes up to an hour and a half. For urgent reservations (same-day), please call 303-556-2410 to confirm availability.
The studio can also be used for recording audio (interviews and narration only, not music) and video interviews.
Photo Studio Equipment
Nikon D3300 SLR Camera
Vanguard Alta Pro Tripod
Camera lenses

18-55 MM VRII lens (standard)
Sigma 10-20 MM lens (wide angle)
Polarizing filters

Genaray Spectra three-light LED light kit
Lavalier mic
Backdrops: black muslin, gray muslin, off-white paper
Photo Studio Cancellation Policy
You must arrive for your appointment within fifteen minutes after the scheduled start time, or else let the CTC know by this time that you will be arriving late. Otherwise your reservation is considered a "no-show" and the studio will be made available to drop-in requests during your scheduled time.
If you are unable to make it to your appointment, please cancel at least four hours in advance using the e-mail link provided to you at the time of your booking, or by calling the CTC at 303-556-2140. Otherwise your reservation is considered a "no-show" or late cancellation. After two no-show or late cancellation appointments in a single semester, you will lose reservation-making privileges for the rest of that semester.
You can always check, reschedule, and cancel your appointment from the e-mail confirmation you will receive after booking. Staff is also available to assist in person and by phone at 303-556-2140.
Large Format Printing
The Creative Technology Commons supports large-format high-resolution color printing for Auraria campus students, faculty, and staff. Prints can be a maximum of two feet wide by any length.* This services costs $4.00 per linear foot with pricing rounded up to the nearest 25 cents. All payment must be received in full, in cash, prior to printing. Please provide for a 3-day turnaround time for all requests.
You can visit or e-mail the CTC with your file in order to obtain a price quote. Before printing, all files must be reviewed in person at the CTC.
* For lengths larger than 10 feet, please contact us.
Recommended file settings
Resolution:
300ppi or higher (600ppi or higher recommended)

Color management:
CMYK or RGB

Filetypes accepted:
JPG/PNG/TIFF, PDF, PSD, AI, INDD
Digitization Requests
The CTC maintains the Auraria Visual Resources collection, available through ArtStor, and handles faculty requests for the digitization of media. All media reproductions made by the CTC become part of the collection and may be used exclusively for educational purposes. Please permit a two-week turnaround time for digitization requests.
Please be aware that prior to being filled, all digitization requests will be reviewed for compliance with the Auraria Library Digitization Policy. We are unable to fill requests that are not in compliance with this policy.