Katy DiVittorio (she, her, hers)
Department Head Collections Strategies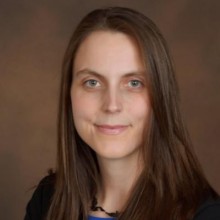 Role in the Library
Katy oversees the Library's Learning Materials budget and provides leadership to the Collections Strategies Department which acquires, licenses, and purchases Learning Materials (print and electronic books, journals, videos, and databases), manages the physical library stacks, oversees the Library's Interlibrary Loan services, and performs collections assessment on Learning Materials.
More About
Katy is active in professional organizations, serving on committees and presenting at national conferences. She previously worked at Lewis & Clark Law School Library in Portland, OR. Katy joined the Auraria Library in 2012.
Honors/Awards/Grants
2019

CU Denver Office of Diversity and Inclusion Grant

2018 National Media Market & Conference Scholarship
2017 Auraria Library Excellence in Librarianship Award

2017 NASIG Rose Robischon Scholarship

2016 Auraria Library Excellence in Service Award

2016 & 2018 University of Colorado Denver Association of Lecturers and Instructors Professional Development Grant 

2014 American Library Association, Emerging Leader

2013 American Library Association, New Members Round Table, Shirley Olofson Memorial Award

2013 Beta Phi Mu, Library and Information Studies Honor Society
Select Presentations
DiVittorio, K., Gaddis, P., Browning, S. (2020, September 9) "SILLVR: Streaming Interlibrary Loan Video Resources

".

Northwest Interlibrary Loan & Resource Sharing Conference. Online.

DiVittorio, K. et al. (2019, April 26) "ILL for Streaming Video". CO ILL Conference. Westminster, CO.

DiVittorio, K. et al. (2019, March 5) "

The Licensing Elephant in the Room: Resource Sharing for Streaming Video

" ER&L Conference, Austin, TX.

DiVittorio, K., Galey, M., Higgins, M. (2017, August 10) "

Inadvertent ILL: Reimagining Acquisitions & ILL Workflows

". NWILL Conference. Portland, OR.

DiVittorio, K., DeRosa, K., Higgins, M. (2016, November 18) "Use It or Lose It: The Power of Usage Data with Print Periodical Subscriptions

".

Alliance Library Assessments Workshop. Denver, CO

DiVittorio, K., & Browning, S. (2016, June 10) "Dude, Where's My Staff

?" NASIG Conference, Albuquerque, NM. 

Cunningham, S., DiVittorio, K., Smith, K., & Smolinski, A.

(2014, June 27) "Building Your Web and Making it Grow: Virtual ALCTS 101

". ALA Annual Conference, Las Vegas, NV.

Browning, S. & DiVittorio, K. (2014, March 19) "Beyond 'I Clicked the Link, But It Didn't  Work!: What Analyzing Troubleshooting Reveals

".

ER&L Conference, Austin, TX.
Professional Affiliations and Service
NASIG Committees
NASIG, Executive Board, Member-At-Large, 2020-present

NASIG, Evaluation and Assessment Committee, 2019-2020

NASIG, Student Mentoring Program Subcommittee, 2016-2018

NASIG, Conference Planning Committee, 2015-2016

NASIG, Student Outreach Committee, 2012-2017
ALA Committees
ALA, ALCTS, Ross Atkinson Lifetime Achievement Award Jury, 2018-2019

ALA, ALCTS

, Committee on Research and Statistics, 2016-2019

ALA, ALCTS, Esther J. Piercy Award Jury, 2016-2017

ALA, ALCTS

,

A

ffiliates Committee, 2013-2016

ALA, NMRT,

Shirley Olofson Memorial Award Committee, for 2014 award year
State/Regional Committees
Colorado Alliance of Research Libraries, Shared Collection Development Committee, 2016-present

Diversity and Inclusivity in Collection Building Workshop, 2019

Colorado Open Scholarship Summit/Series Committee, 2016-2017
CU System Committees
CU System Libraries Mentoring Taskforce, 2019

CU Libraries Electronic Resources Team (CLERT), 2014-present
Education
M.L.I.S. San Jose State University
B.A. Seattle University
A.A. Whatcom Community College
Select Publications
DiVittorio, K., Gianelli, L. (2021, March 31). "Ethical Financial Stewardship: One Library's Examination of Vendors' Business Practices." In The Library With The Lead Pipe.
DiVittorio, K., et al. (2020). "SILLVR: Streaming Interlibrary Loan Video Resources." Collaborative Librarianship. Vol. 11, Iss. 4, Article 8.
DiVittorio, K. (2019, April) "Serials Spoken here: Reports of Conferences, Institutes and Seminars. Acquiring Whiteness: A panel discussion between librarians and publishers on diversity, inclusion, and equity in scholarly publishing and acquisitions." Serials Review, 44(4), 324-326.
Browning, S., DiVittorio, K. (2017, April). "Resource Management: Reorganizing to Reassess and Remain Sane." Against the Grain, 29 (2), 69-71.
DiVittorio, K. (2013, December). "2013 North American Serials Interest Group Conference (NASIG) 28th Annual Conference: Art of Information, Architecture of Knowledge." Serials Review, 39 (4), 271–277.
Staff Picks Curated by Me