Photo, Video, and Audio Studio
The Digital Media Studio (DMS) is a space that can be reserved for portfolio documenting photography (2D and 3D artworks), portrait photography, video and audio recording.
Current students, faculty, and staff from CU Denver, MSU Denver, and CCD may reserve the studio for 60 minutes, multiple appointments can be made in a row. DMS Staff will provide an equipment overview at the beginning of the appointment and will be available on-site for questions, if needed.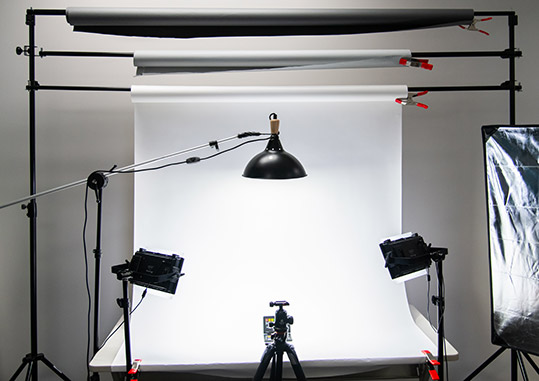 Bookable Services
Photograph 2D/3D portfolio work
Take portrait photos
Record video
Record and edit audio
Make an Appointment
Please use Digital Media Studio Services Calendar to request an appointment. Depending on the service requested, we can help you out in person, over email, or through Zoom. Due to the level of preparation needed, appointments should be made 48 hours in advance.
We are currently experiencing a staffing shortage in this space; some services may not be available at this time. Please email dms@ucdenver.edu with any questions.
Find this Space
We are located on the first floor next to the yellow staircase in the Auraria Library. Use the Interactive Floor Maps to view where the DMS space is located inside the library.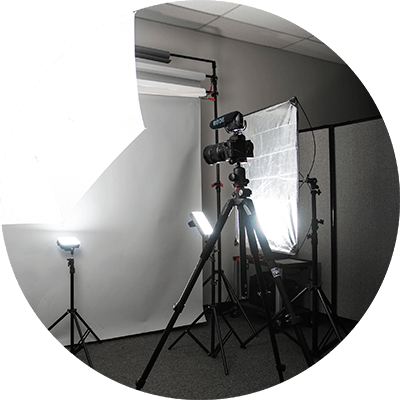 Please note:
Cameras and recording equipment are for independent use and DMS staff will not do photographing or recording for you.
At the beginning of your appointment, we will go over the equipment specified in your reservation and will be available for questions during your appointment.
The equipment in the DMS is for use in the space only and cannot be checked out or removed from the space.
The audio studio can be used for recording interviews and narration only. The space is not equipped for recording music.
SD cards are available for all cameras for use in the space and transferring files
Video and Photo Cameras:
Nikon D850 DSLR Camera

18-55 MM VRII lens (standard)
Sigma 10-20 MM lens (wide angle)

Sony A7R III
Studio Gear:
6 Apurture Amaran LED kickers
3 Apurture Amaran LED panels
2 Westcott diffusion umbrellas
Genaray Spectra three-light LED light kit
Gold/silver flat reflector panel
Lavalier mics
Rode VideoMic Pro Compact VMP Shotgun Microphone
Paper Backdrops: black, charcoal, gray, light gray, green, cream, white
Manfrotto tripod with wheels
Studio Titan monopod with wheels
Glide Gear iPad Teleprompter
Sandbags
Pegboard on wheels
Audio:
Shure handheld microphone
Audio-technica headphones
Lapel mics
Mic stand with foam insulated sound reflector
Focusrite Scarlett interface/pre-amp
Stereo speakers
XLR cables
Logic Pro X
Pro Tools
Audacity