Researcher Support Services 09.15.2021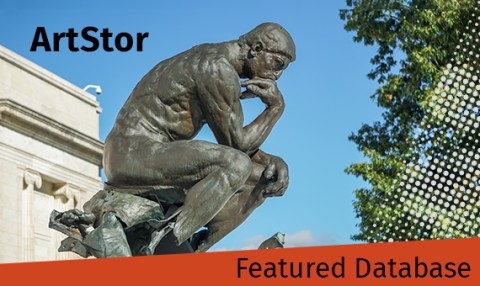 Featured Database: ArtStor
You can use databases to easily find organized collections of articles, journals, news, streaming videos, primary sources, data, and more!
Here's one of our favorites:
What's in it?
ArtStor is a digital library containing hundreds of thousands of high-resolution images of art, architecture, and archaeological artifacts. Each image is accompanied by descriptive information that allows it to be searched. ArtStor offers access to our Auraria Campus Institutional Collections, including ArchiVision (architecture) and JStor Forum, also known as "Shared Shelf" or the "Auraria Digital Resources Collection", and includes images created by Auraria Campus faculty.
The original owners of the content in ArtStor, including art museums and private collections, decide when a high-resolution image can be released. So the archival content in ArtStor is only available in its extraordinary detail through the ArtStor platform. There is a complete support system for using and presenting the content in ArtStor.
Why should you use it?
Use ArtStor to examine wide-ranging material such as Native American art from the Smithsonian, treasures from the Louvre, and panoramic, 360-degree views of the Hagia Sophia in a single resource. ArtStor supports study across disciplines, including anthropology from Harvard's Peabody Museum, archaeology from Erich Lessing Culture and Fine Art Archives, and modern history from Magnum Photos.
Who should use it?
People studying art and artifacts will enjoy the wide range of content archived in ArtStor. They will be able examine in detail and side-by-side the content of some of the world's most famous museums. ArtStor content is also available from within JStor, another extensive archive though primarily for journal content.
Why use a database?
When you use a specific database, rather than a search engine or discovery tool, you often can find more relevant sources. For example, subject databases include sources about that subject only, rather than a general search engine or discovery tool that includes information about everything. This way you don't have to wade through thousands of irrelevant results!
Want more databases?
Browse or search our Databases List!
If you have questions about this database or others, please see our Ask Us page.