Auraria Library 08.19.2019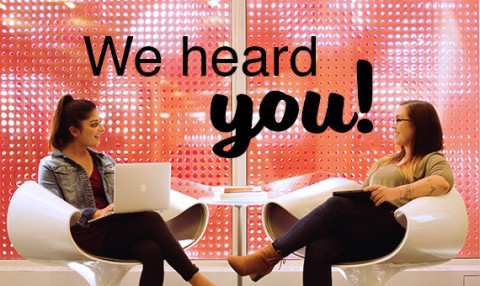 In the spring of 2018, the Library administered a campus-wide survey designed to measure the quality of library services, spaces, and resources. We had 1,616 responses from undergraduate and graduate students in nearly every discipline, professors, lecturers, administrators, and staff from all three institutions on the Auraria campus. We learned a lot of valuable information.
You helped us identify these particular areas of strength:
The library is a comfortable, inviting location, and a gateway for learning and research.
It is a Community space for group learning and group study
Library staff have the knowledge to answer your questions
Off campus access to the library's scholarly resources
 You also identified some areas that need improvement:
Unified customer service across all of our service points
Better printing experience for students
More quiet study spaces in the library
An easier to navigate website and more direct access to library resources
Document delivery and interlibrary loan
Improved seating and Wi-Fi
We would like to update you on some changes and projects that are underway to address these areas.
Customer Service
Performing an internal assessment of service points in an effort to unify the customer experience and help staff make better referrals
Adding a second floor service point called Ask Me to answer your research and library questions when you are upstairs
Document Delivery
Conducted a survey with interlibrary loan users to understand how we can better meet their expectations
Clarified interlibrary loan policies on the library website 
Printing
Beginning a comprehensive evaluation of the student printing service aimed to create a more user-friendly experience and provide additional services you need
Website Navigation
Added a "Quick Menu" to provide a birds-eye view of all our major services
Removed several intermediate webpages to streamline access to the most important content
Quiet Space, Seating & Wi-Fi
Installed additional cabling, conduit, and web access points across the entire library to improve Wi-Fi access
Currently conducting seating surveys to understand where we need more seating and quiet areas
Access to Library Resources
Improved linking to full text resources which has reduced the number of clicks it takes to get to full-text for roughly 50% of our electronic journals, databases, and ebooks
Updated over 60,000 links to scholarly materials to point to secure URLs which streamlines your experience getting to materials
We will continue to work on these areas throughout the 2019-2020 academic year!