Education and Public Services Division 03.18.2019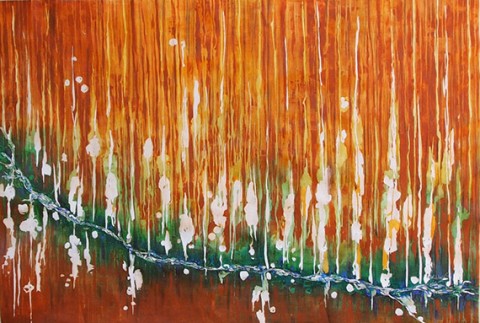 Timor-Leste: An Artistic Perspective by Maria Madeira will be hosted in the Auraria Library from March 22 through April 19, 2019.
CONCEPT
Art and culture is an indispensable means of identity and cultural survival of a nation. It is mechanisms by which the people of a nation are to identify, express, convey and communicate their beliefs, way of life, customs and traditions.
Like many indigenous cultures, historically the arts and culture of Timor-Leste has endured, developed and passed through many changes since its beginning through approximately 500 years of colonisation by Portugal, the invasion by Indonesia in 1975 and its independence in 2002. These highly developed traditions ways of life and customs, which pre-date to colonial history, continues to grow, develop, expand and will inevitably change in today's existing society. Over the last few decades, there has been an evidence of increase in the visual arts culture, particularly during the period of Indonesian occupation. This is in fact growing, evolving and establishing itself in our contemporary society. Additionally, since this country's independence, there has been an immense interest in showcasing and preserving its traditional and contemporary arts and culture.
By exploring and investigating the impact, significance and development in terms of the contemporary perspective of art and culture of Timor-Leste, has helped me to put things into more contemporary contexts using methods, symbols, colours, and patterns for the production of innovative artworks and expressions, aimed at contemporary international understanding. Over the years, my artworks have predominantly been created using East Timorese traditional materials and symbols such as the betel nut. My paintings and sculptures have been focused mainly on Timor-Leste's culture and history, using Western styles, methods and technique. Adding to this notion is the belief that the marriage between the old or traditional with the new and contemporary will bring wonders. As this will reach not only the more traditionalist, but also the younger generation whom have been for so many years exposed to more contemporary ideas.
About Maria Madeira
I was born in the village of Gleno in the Ermera region of Timor-Leste.  The Portuguese Air Force evacuated me from Timor in 1976 during the Indonesian invasion. I spent most of the subsequent eight years in an International Red Cross refugee camp on the outskirts of Lisbon, Portugal and I immigrated to Australia with my family in August 1983.
Over the years, I have gone on to complete three University qualifications: a B.A. Fine Arts (Visual Arts) Degree from Curtin University in 1991, a Graduate Diploma of Education (Major in Art) from Curtin University in 1993, and a B.A. in Political Science from Murdoch University in 1996. I have just completed my postgraduate (Doctor of Philosophy – Art) study from Curtin University, Australia.
Between 1996 and 2000, I worked in Western Australia as a high school art teacher, visual artist and cultural advisor for several arts and culture institutions and organisations.  Between the years 2000 – 2004, I returned to Timor-Leste to live, to play my part in Timor-Leste's recovery, rebuilding and development of the world's newest nation.
To date, I have carried out over 30 solo or group exhibitions of my paintings, sculptures, drawings, mixed media collages and installation pieces, across Australia, Portugal, Brazil, Macau, Indonesia and Timor-Leste. 
One of my main concerns as an artist, arts educator and cultural adviser is to convey Timor-Leste's culture and traditions to other societies – and vice-versa. It is my strong belief that art and culture are the spirit and soul of a nation, and is a vehicle through which future generations can learn to appreciate the beauty and strength of their own culture – and, in this way, discover who they are in the world.