Researcher Support Services 10.18.2021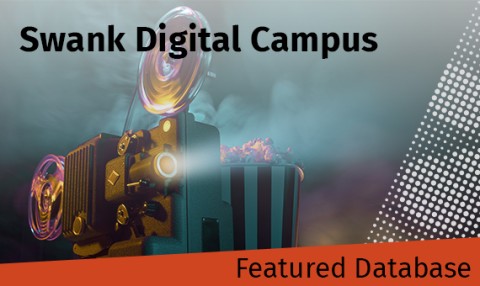 Featured Database: Swank Digital Campus
You can use databases to easily find organized collections of articles, journals, news, streaming videos, primary sources, data, and more!
Here's one of our most used databases:
What's in it?
Swank Digital Campus is the Library's premiere digital video streaming resource. It has everything from blockbuster feature films to arthouse classics. It can be used on campus or at home and has a rotating lineup of motion pictures, documentaries, and more.
Why should you use it?
You should use Swank Digital Campus as an alternative to commercial streaming services, especially as those services tend to gain and lose licenses to certain films with little or no warning. It's also an invaluable resource for students and faculty who study or teach film courses.
Who should use it?
Swank Digital Campus should be used by anyone studying film for a course or simply just to enjoy free movies!
Why use a database?
When you use a specific database, rather than a search engine or discovery tool, you often can find more relevant sources. For example, subject databases include sources about that subject only, rather than a general search engine or discovery tool that includes information about everything. This way you don't have to wade through thousands of irrelevant results!
Want more databases?
Browse or search our Databases List!
If you have questions about this database or others, please see our Ask Us page.