Researcher Support Services 02.19.2021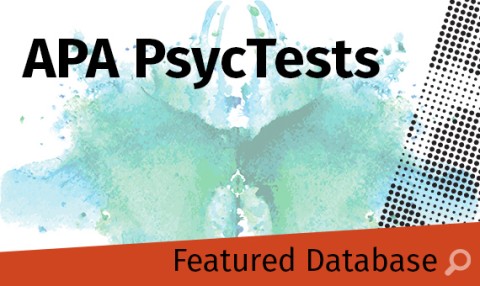 Featured Database: APA PsycTests
You can use databases to easily find organized collections of articles, journals, news, streaming videos, primary sources, data, and more! 
Here's one of our favorites:
Explore the APA PsycTests Database
What's in it? 
Access thousands of psychological and other discipline related tests, measures, scales, surveys, and other types of assessment tools on a variety of subjects. Entries include descriptive information about each test and its development and administration. Many entries provide the full-text of the test, which can be downloaded and used by researchers. Scoring guides and instructions on how to use the test are also often included. If you can't find the full-text of a test in APA PsycTests, check out our Psychological Tests page on our Psychology Research Guide. 
Why should you use it? 
Finding the full-text of assessment tools can be difficult as they are often not included in articles or shared via other methods. APA PsycTests is a unique database that provides full-text for these kinds of instruments. 
Who should use it? 
Psychology, social work, counseling, education, English as a Second Language, and related studies students, staff, instructors, and faculty.  
Why use a database?
When you use a specific database, rather than a search engine or discovery tool, you often can find more relevant sources. For example, subject databases include sources about that subject only, rather than a general search engine or discovery tool that includes information about everything. This way you don't have to wade through thousands of irrelevant results! 
Want more databases?
Browse or Search Our Full Database List
If you have questions about this database or others, please contact research@auraria.edu.