Researcher Support Services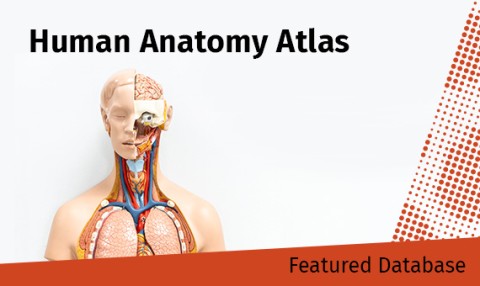 Featured Database: Human Anatomy Atlas from Visible Body
You can use databases to easily find organized collections of articles, journals, news, streaming videos, primary sources, data, and more!
Here's one of our newest databases:
Human Anatomy Atlas from Visible Body
What's in it?
Visible Body Human Anatomy Atlas is a digital collection of anatomy, physiology, and pathology visualizations and animations. The atlas includes comprehensive male and female 3D anatomy models, selected micro-anatomy of tissues and organs, cadaver slices and diagnostic images that are paired with 3D cross-sections, and interactive animations of all systems such as muscles and bones as well as quizzes and lab activities. The Atlas can be explored through regions, systems, cross-sections and muscle actions. The Atlas is an app available for download on your personal computer or smart device!
Why should you use it?
The Human Anatomy Atlas makes high definition, 3D anatomical models available anywhere, anytime. While we have many 3D models available for use within the library at the Ask Us Desk, this database provides accessibility outside of the library, along with additional features like the ability to zoom, dissect, and rotate the models. Need help finding an organ, muscle, or bone? Use the search function! There are also quizzes and activities for an interactive learning experience.
Who should use it?
Students studying the human body in any form, whether it is in the sciences, the arts, or any discipline in between. Use it to add depth to your study of our models available in the library, or use it on its own!
Why use a database?
When you use a specific database, rather than a search engine or discovery tool, you often can find more relevant sources. For example, subject databases include sources about that subject only, rather than a general search engine or discovery tool that includes information about everything. This way you don't have to wade through thousands of irrelevant results!
Want more databases?
Browse or search our Databases List!
If you have questions about this database or others, please see our Ask Us page.