Special Collections and Digital Initiatives 06.06.2019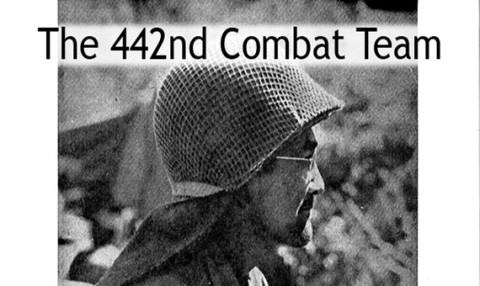 In honour of D-Day, the day when Allied forces invaded northern France to open a new front against the Third Reich, we want to share an interesting item from our collections. Published in 1979, The Story of the 442nd Combat Team is a booklet covering the history and deployments of the 442nd Infantry Regiment, a US Army unit that was composed almost entirely of Americans of Japanese ancestry. Along with the 100th Infantry Battalion, which it later absorbed, the 442nd was created as an opportunity for Japanese-Americans to serve, even though many of the volunteers had friends and loved ones in one of the many internment and relocation camps around the Western United States. The 442nd served primarily in Italy and was instrumental in the many battles fought from Salerno to Monte Cassino and across the Italian Alps. They also were a key unit in the rescue of the legendary "Lost Battalion" when they entered southern France in late 1944. This regiment is, to this day, the most decorated in U.S. military history and engaged in some of the heaviest and costly fightings in the European theatre. While they did not participate in D-Day, their unit and thousands of others were part of the final push to liberate Europe from the clutches of the Third Reich. This commemoration is doubly stultifying given the ethnic make-up of the 442nd and the cognitive dissonance surely in the minds of those who served.
For this and other materials related to the Second World War and Japanese-American history, please visit the Auraria Library Special Collections, or check out our digital resources at digital.auraria.edu.