Researcher Support Services 10.06.2021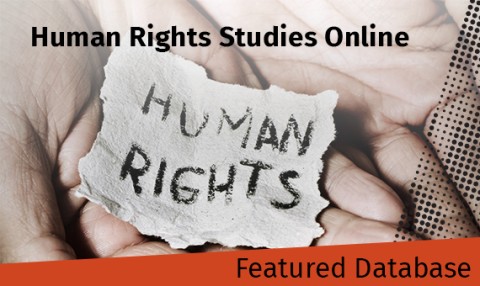 Featured Database: Human Rights Studies Online
You can use databases to easily find organized collections of articles, journals, news, streaming videos, primary sources, data, and more!
Here's one of our new databases:
What's in it?
Human Rights Studies Online provides documentation, analysis, and interpretation of major human rights violations and atrocity crimes worldwide from 1900 to 2010. The collection includes primary and secondary materials across multiple media formats and content types for each selected event, including Armenia, the Holocaust, Cambodia, Bosnia-Herzegovina, Rwanda, Darfur, and more than thirty additional subjects.
Why should you use it?
Use Human Rights Studies Online to learn about and research human rights violations and crimes worldwide. Read documents and books, watch videos and clips, or view photos explaining the atrocities that happened during the 20th century and early 21st century.
Who should use it?
Students and faculty in sociology, political science, public administration, legal studies, history, social work, and related disciplines who are learning, teaching, or researching about human rights violations may find this database most helpful.
Why use a database?
When you use a specific database, rather than a search engine or discovery tool, you often can find more relevant sources. For example, subject databases include sources about that subject only, rather than a general search engine or discovery tool that includes information about everything. This way you don't have to wade through thousands of irrelevant results!
Want more databases?
Browse or search our Databases List!
If you have questions about this database or others, please see our Ask Us page.